meet Carol gill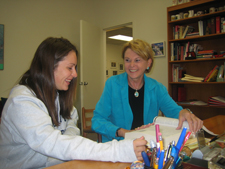 Getting into the right college for a high school senior is difficult. But Carol Gill has been helping do just that for 25 years. "Parents and their children need help wading through the various tests, applications and essays that schools require today," Carol says.
Through Carol Gill Associates, Ms. Gill has placed over 5,200 students at colleges from the Ivy League to the Pacific Northwest, even Scotland! She has personally visited over 360 colleges and prep schools. Clients come from Switzerland, Hong Kong, Mexico, Ireland, and Brazil.  Referrals have come from the Young President's Organization, where she was a featured speaker. The "alum" list includes students from virtually every state in the United States. For many families, she has helped siblings and family relatives as well. That's a true testament to her expertise in the college selection process.
Carol was the Senior Associate Director of Admissions at Barnard College, Columbia University. She also served as the Director of College Counseling at The Masters School in Dobbs Ferry, NY where she held the Lightner Chair in History. An honors graduate from Harvard University, she also holds a master's from Manhattanville College. She has appeared on ABC-TV Eyewitness News and The View, and has been widely quoted in The New York Times and The Wall Street Journal. Ms. Gill is a member of the Editorial Advisory Board of the best-selling Fiske Guide to Colleges, the most prestigious publication in the field. She is also a member of IECA, the Association of Independent College Counselors, and NACAC, the National Association of College Admission Counselors.
One of the unique characteristics of the Carol Gill team is providing ancillary help to students.  CGA–15 professionals in all–offers tutoring in all academic subjects, training for standardized admissions tests, mock interviews and portfolio preparation for art and creative studies.  Business School, pre-med, pre-law and financial aid advice can also be provided. 
Professional college counseling has become vital as college admission has become more competitive and complicated.  The Carol Gill Associates team guides students through the entire process. "We know the schools and know the admission officers.  That's a huge advantage," Carol says. "We help make the right match because the right school is important for a successful college career. And a successful placement always makes parents–and us–feel good."